Work Together
Imagine hundreds or thousands of event attendees working together to build, and reveal, your logo in just a few hours. You can with Mosaic Photo Wall.
Looking for a unique and engaging activity to add to your upcoming event? Look no further than our Mosaic Wall! This innovative technology allows your attendees to work together to create a stunning photo mosaic of your brand, logo, or event theme.
We offer a wide range of customization options to ensure that your Mosaic Wall fits seamlessly with your event's branding and design. From selecting the perfect images to incorporating your logo or event theme, our team will work with you to create a truly personalized experience.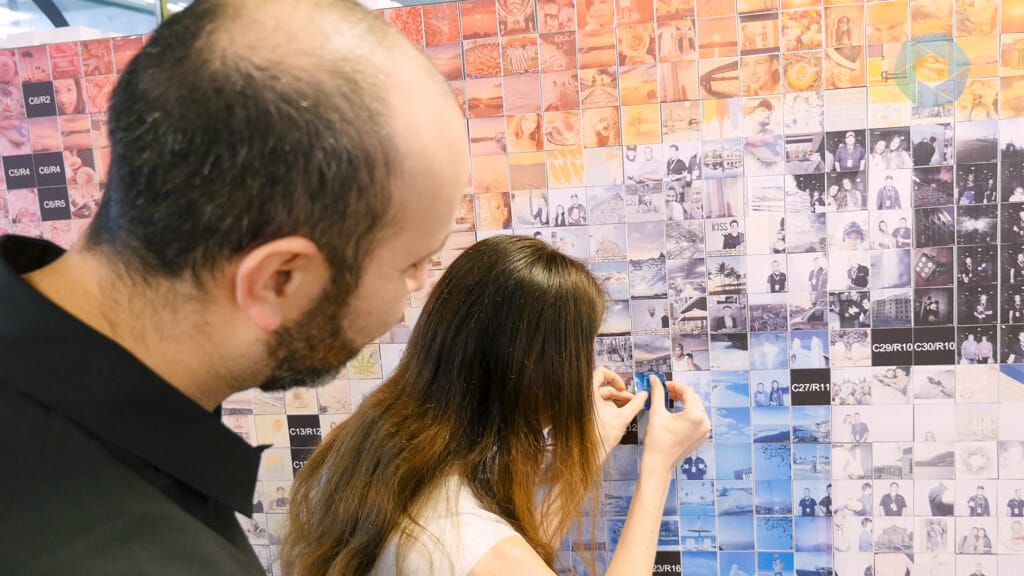 Contribute
Event attendees use their own social media accounts to easily contribute to the Mosaic with an event specific hashtag.
Captivate your audience and create a unique experience with our Mosaic Photo Wall. This interactive and collaborative display is the perfect addition to any event. Attendees will be able to easily contribute to the Mosaic using their own Instagram and Twitter accounts with the event-specific hashtag. With each photo posted, the Mosaic will slowly come to life, building your brand or logo in just a few hours.
Brand Engagement with Mosaic Photo Wall
Drive social reach and brand engagement at your next event with our Mosaic wall.
Capture, Print & Place.
The Mosaic Wall is an excellent tool to promote brand engagement at your event. Capture, Print & Place. That's all it takes to create a stunning branded mosaic wall at your next event. Our team of experienced professionals will guide you through the entire process, from setting up the equipment to designing the final layout of the wall. Contact us today to learn more about how our Mosaic Photo Wall can elevate your next event.
Mosaic Wall Specifications
Dimensions

10′ width x 8′ length x 8′ height space for photo op

Display

Mosaic wall size determines space needed for best user experience

Extras

Access to in-house wifi/internet

Table

6 ft. table with 2 chairs