360 Photo Booth technology
Generate engaging content with our state of the art 360 Photo Booth rental technology and stream instantly to your social media.
Are you looking for a unique and exciting way to engage with your event attendees and create unforgettable memories? Our 360 booth technology is the answer. With state-of-the-art equipment and cutting-edge software, we provide an immersive and interactive experience that captures every angle and moment of your event. Whether you are hosting a corporate event, wedding, or birthday party, adding 360 photo booth as your photo booth rental will elevate the fun and excitement to the next level.
Next Level
Take your brand activation to the next level with a 360 video booth activation!
Create Engaging and Shareable Content.
With just a few taps, event attendees can create dynamic and engaging content then share their 360 photos and videos on their social media accounts, driving social reach and engagement for your brand or event. By incorporating custom branding and messaging, you can amplify your marketing efforts and leave a lasting impression on your audience.
Brand Awareness
Capture amazing content while getting tons of impressions and build a better brand awareness and loyal following.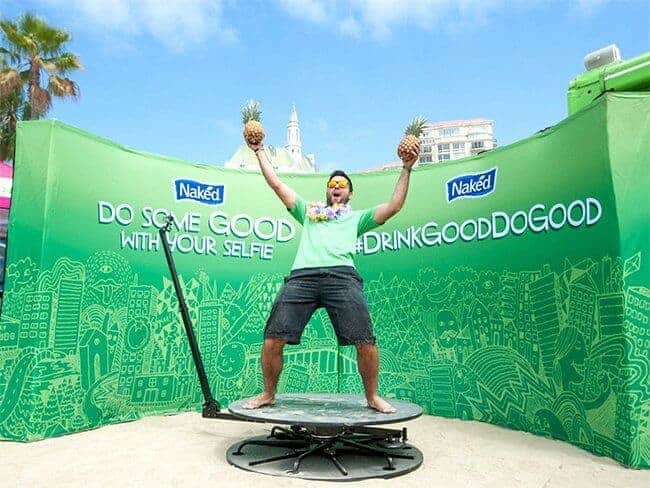 Whether you're looking to promote your brand, increase your social reach, or create a memorable experience for your guests, our 360 Photo Booth is the perfect solution.
You can create unique and interactive content that resonates with your audience. With the ability to customize the backdrop and branding of the booth, you can ensure that your brand message is communicated effectively to your target audience.
Contact us today to learn more about how we can help you achieve your marketing goals with our 360 Booth technology
360 Booth Specifications
Dimensions

10′ width x 8′ length x 8′ height space

Extras

Access to in-house wifi/internet
The 360 Photo Booth
Curious?